Sol Splenduit
Mid Fall - 2018
Sometimes, I'll turn a bend in a canyon, or crest a hill, and my heart skips a beat. Seeing this composition for the first time was one of those times. While hiking around Zion's east side, my good friend Justin led me through this slot canyon and when we found this tree in full fall color we both just stood still and quite while taking in one of the most incredible displays of beauty in nature either of us had seen.
Constant Family
Late Fall - 2018
This scene stood out to me immediately as I passed it while roaming around with a friend on the east side of Zion in October of 2018. To me, the most powerful element of the composition is the rocks in the foreground. It feels like the two larger, flat stones are protecting the smaller one underneath.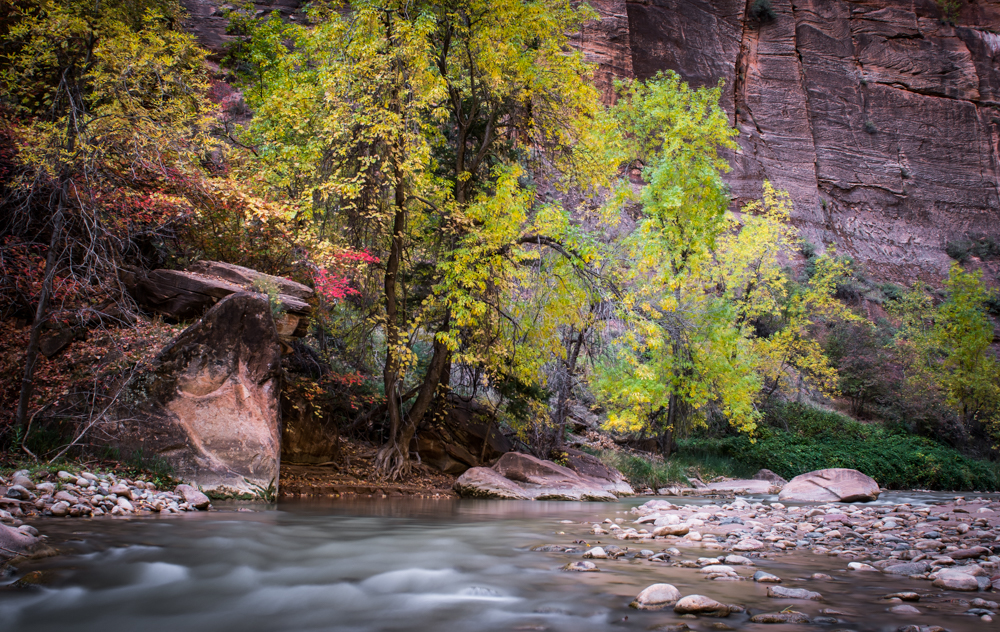 Stillness on the Virgin River
Mid Fall - 2016
This is my favorite photo from all my trips to Zion. To me, it perfectly displays what makes the park special. Explosive, vivid fall colors which contrast heavily with the reddish pink of the canyon walls and the dark blue-green of the Virgin River.
Hollow in the Narrows
Mid Fall - 2016
The cavernous narrows of Zion spilled out fall color as we hiked deeper into the canyon. The water came up to our waists while I stopped to compose this image. I'm still suppressed my tripod was still enough for this exposure.